...

Ultra Wire direct purchase page
WE HAVE BROUGHT THE FINEST MATERIALS IN THE WORLD TOGETHER FOR THIS PRODUCT. We start with
exceptionally pure
continuously cast copper.
Note: All
copper wire
is continuously cast, that is how copper wire, even the wire in your walls, is made... using a continuous cast technique. Don't be fooled by hype.
Each ULTRA-WIRE strand is ultra high purity, linear crystal, stress-free, super annealed, micro-polished, ultra fine stranded copper.
It is jacketed in a modified PE dielectric which offers dissipation and dielectric constant figures similar to Teflon™, but without TFE or PTFE mechanical stiffness and resonance problems and without the toxic component fluorine as a component of the dielectric. Our wire is very stable in all aspects a wire can be in normal use.
A special extrusion process allows the insulation to exert a high inward radial force on the wire strands, thus reducing audio smearing micro-vibration.
Our ULTRA-WIRE is Immersion CRYO treated by
our own proprietary process in our own 'in house' Cryo lab
.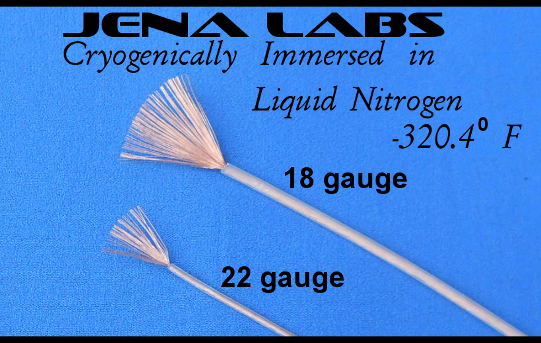 .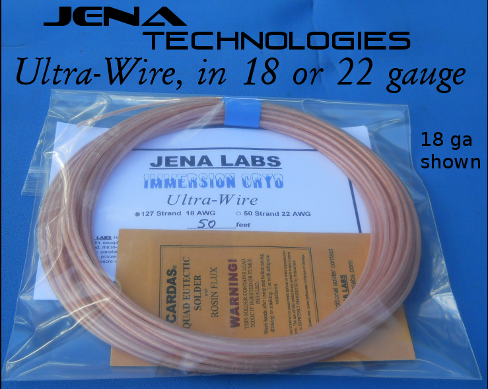 This is Our Ultra Wire bagged with Cardas Quad Eutectic Solder
about
Immersion Cryogenics
The Deep Immersion Cryogenic treatment entails a cold chilling process culminating in immersion of the cables or electronics parts in Liquid Nitrogen, also known as LN2. The boiling point of LN2 is -320.4° Fahrenheit [-195.77° Celsius], or about 400° F below warm room temperature. In the super chilled liquid state as we use it, the LN2 is actually colder than this temperature because the immersion is in its liquid state. Exposing metallic objects to this extreme cold causes beneficial molecular changes to occur. As metallic objects cool, they shrink. With the extreme cooling and the shrinkage that follows in super chilled LN2 immersion, the crystal boundaries of metallic conductors align more closely with one another and become more conductive and 'quieter'. Mechanical integrity is also improved. The improved molecular condition stays intact through the slow warming process and is stable at room temperature. When conducting an electric signal, treated wire will produce less micro-diode-effect noise, less impurity inclusion field disturbance and less transverse energy wave noise generation.
INSTALLATION INSTRUCTIONS
USE JENA LABS Ultra Wire AS YOU WOULD ANY OTHER HIGH QUALITY WIRE. CAREFULLY STRIP THE INSULATION TO EXPOSE THE WIRE, BEING CAREFUL NOT TO NICK THE ULTRA FINE COPPER STRANDS. PLEASE USE A PROFESSIONAL WIRE STRIPPING TOOL THAT HAS A ROUND CUTOUT HOLE IN THE CUTTING BLADES TO PREVENT DAMAGING THE FINE WIRE STRANDS.
ABOUT SOLDER
JENA LABS HIGHLY RECOMMENDS THE USE OF CARDAS™ QUAD EUTECTIC SOLDER BECAUSE OF ITS SUPERIOR SOUND AND PHYSICAL WORKING CHARACTERISTICS. HIGH PURITY EUTECTIC LEAD-TIN SOLDERS ALSO WORK WELL. THE USE OF ADDITIONAL LIQUID ROSIN 'ELECTRONICS' FLUX MAY BE NEEDED WITH SOME SOLDERS.
WE DO NOT RECOMMEND CONVENTIONAL SILVER BEARING 'AUDIO' SOLDER BECAUSE OF AGGRESSIVE HIGH FREQUENCY DISTORTION, SOUNDSTAGE PINCHING, GENERALLY POOR MECHANICAL WORKING BEHAVIOR, AND POOR LONG TERM STABILITY. !!! WARNING: A solder joint made with ANY non-eutectic solder will fail in from 3 to 8 years !!!
Make sure that whatever solder you choose to use is guaranteed to be a Eutectic Alloy blend.
We are so convinced of the superior performance of Cardas Quad Eutectic Solder we include a usable amount of it in every wire order (approx 5 to 10 feet depending on wire order size...
Note: If you need solder to complete your audio project, and you do not have a guaranteed Eutectic Alloy solder, please contact JENA LABS for small quantity rolls of Cardas Quad Eutectic solder. Contact us by e-mail.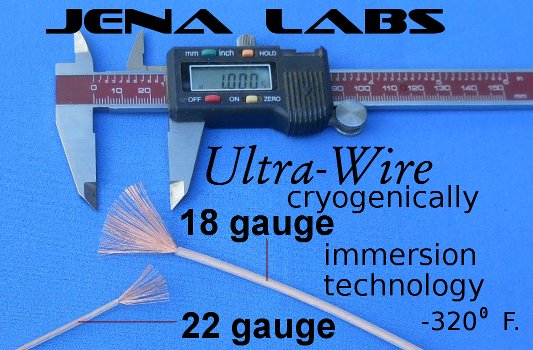 .
Non Commercial Use for DIY ONLY Rules... JENA LABS Ultra-Wire is sold to the DIY enthusiast under the express limitation that the wire will be used for personal construction and upgrade projects only. Use in manufacturing of cable or interconnection products, or internal use in other components, for supply or sale to others is strictly prohibited, except as provided below for commercial use. Purchase constitutes agreement with this policy.

Commercial organizations interested in the use of JENA LABS Ultra-Wire as a component of their manufactured goods or modification services are invited to contact us for OEM licensing. This is how you can use Our Ultra Wire Commercially. We encourage manufactures to consider our Ultra Wire for their products.
Note:
22 Gage wire is priced at the same rate as the 18 Gage.
BE SURE TO TELL US THE GAGE (18 or 22 gage) In the notes section of the PayPal page.
JENA Technologies LLC
email:
e-mail@jenalabs.com
mail@jenatek.com
Cardas Quad Eutectic™ is a trademark of Cardas Audio, Inc., Bandon, Oregon, USA
JENA LABS copyright 1996-2012 ALL RIGHTS RESERVED JENA TECHNOLOGIES L.L.C.
TECHNOLOGY PROTECTED UNDER U.S. PATENT LAW ONE OR MORE PATENTS PENDING